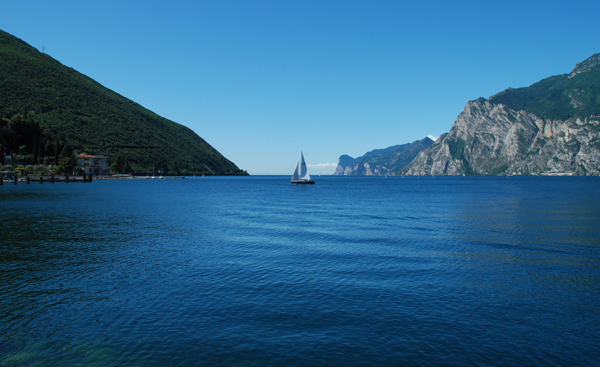 Lake Garda
The Garda Lake has a Mediterranean climate from spring to late in autumn
---
---
o that tourists can relax and have fun almost year-round. The Garda Lake setting is wonderful: a huge expanse of water surrounded by peaks that can reach 2˙000 meters. It is exactly this variety of landscapes and options that makes the Garda suitable for any kind of holiday.
Malcesine
Malcesine is situated on the eastern side of the Garda Lake
---
---
in the province of Verona, at the feet of Monte Baldo. Malcesine is quoted in the pages of Goethe's Italian Journey for the beauty of its geographical position and the Scaligero castle. The village of Malcesine, on the shores of the lake, perfectly preserves its medieval structure and offers to its visitors magnificent sunsets on the shore of the lake. The modern cableway with rotating cabins connects Malcesine with the top of Monte Baldo in just a few minutes, offering to tourists the opportunity to enjoy walks and excursions on its peaks.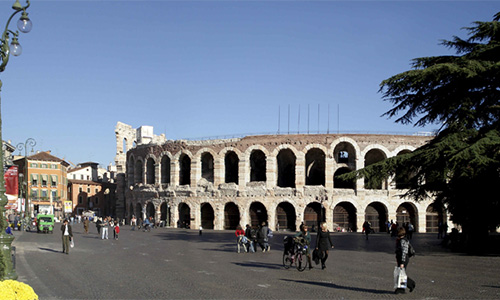 Culture
During the summer period, there are many cultural, artistic and gastronomic events
---
---
taking place in Malcesine and on the Garda Lake. Nevertheless, the tourists staying in Malcesine can go to the nearby Verona (just 60 km away), a special attraction for tourists, both for the beauty of the city and for the performances taking place at the Arena di Verona (arena.it). Other striking touristic destinations that can be easily reached in a one day trip from the Garda Lake and Malcesine are: Bolzano and the Dolomites, art cities such as Venice, Padua, Mantua and amusement parks such as Gardaland and Caneva World.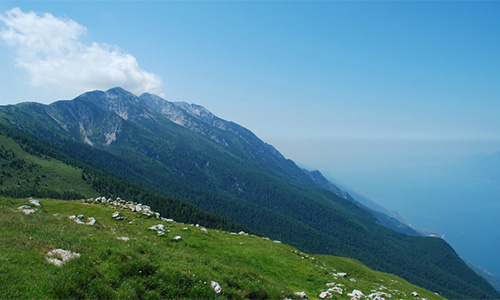 Monte Baldo
Monte Baldo is a mountain range of about 40 km, stretching from the Verona province to the Trentino region, along the Garda Lake.
---
---
The height of the Monte Baldo goes from 65 m at the same level of the lake to the 2˙218 meters of Cima Valdritta. Monte Baldo offers to nature lovers, hikers and mountaineers a wide range of walks and excursions and it can be reached from Malcesine in just 10 minutes by the new cableway with rotating cabins.. The Monte Baldo is rich in rare and gorgeous flowers, and nature lovers can visit theBotanical Garden , in Novezzina, where it is possible to admire autochthonous species in the so called "Hortus Europae".