Sport
A holiday on the Garda Lake does not just mean relax and wellness, but also sport activities.
---
---
In fact, thanks to its position and its orography, the Garda Lake is a big outdoor gym. On the lake it is possible to practise all kinds of water sports: sailing, windsurfing and kitesurfing. The mountains surrounding the Garda Lake reach heights of 2˙000 meters offering to sportsmen and women the opportunity to try their hands at hiking, mountain biking, as well as at the thrilling experience of climbing. Moreover in Malcesine it is possible to practise extreme sports such as paragliding: an experience you won't forget for sure.
Windsurf & Kitesurf
The Garda Lake is the perfect resort for windsurfing and kitesurfing lovers.
---
---
In the early morning hours a wind called "Peler" blows from the North, whereas in the afternoon the famous "Ora del Garda" wind blows from the South to the North. These winds and the lake setting turn the Garda into a paradise for windsurfers and kitesurfers. On all beaches it is possible to find schools and sailing clubs where it is possible to hire sport equipment or to book windsurf and kitesurfing lessons for beginners.
Links: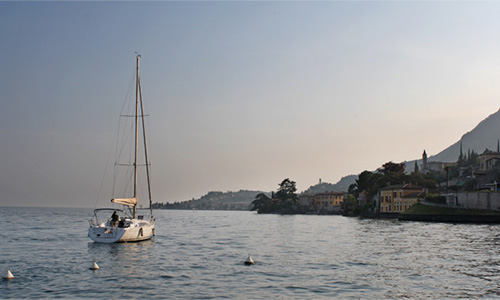 Sailing
On the Garda Lake there are several sailing clubs from well-established tradition.
---
---
In every Garda Lake resort there is a Club or a "Fraglia" (guild) with schools recognized by the Federation, which offer lessons for adults and young people. The winds that blow on the lake in the morning and in the afternoon hours change intensity from one place to another so that skippers can have a good time and try very different settings. In Malcesine sailing lovers can go to the Fraglia Vela Malcesine or at motor and sail boat rentals EST Garda boat rent.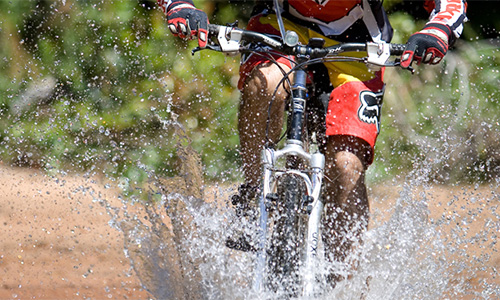 Mountain Bike
The Garda Lake is surrounded by a tangled web of roads, footpaths and dirt roads that go from the lake to the mountains such as footpaths climbing up to the peaks or narrow roads disappearing into the countryside and the olive trees:
---
---
the ideal routes for mountain bike lovers. There is a number of different options: from the cycle rides in the villages on the lake to more demanding routes with steep slopes for more trained cyclists. Some of the mountain bike routes on the Garda Lake can be found here: Garda Routes.